Events & inzamelacties
Regelmatig organiseren we inzamelacties, verkoopstanden of events om geld en voeding in te zamelen. Denk bijvoorbeeld aan de actie van Tom&Co: Eetkommen van het Hart.
Voor deze standjes te bemannen, zijn we steeds op zoek naar enthousiaste vrijwilligers om enkele uurtjes mee te helpen.
Taken:
Opzetten of afbreken van het standje
Verkopen van onze spulletjes
Informatie verstrekken over onze organisatie
Heb je zelf een leuk idee om onze organisatie in de spotlight te zetten/ te steunen? Laat het ons zeker weten!
Wij organiseerden reeds verschillende workshops (zelfverdediging, paaldans, …) en een heus eetfestijn!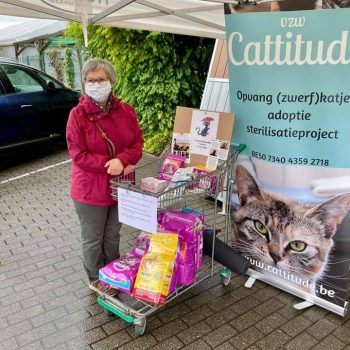 Vangacties & transport
Ook zijn wij steeds op zoek naar vrijwilligers om te helpen bij vangacties of voor transport (katjes of donaties)!
Opzetten van de befaamde vangkooi (no worries, ervaring is niet vereist! Ons team van enthousiaste vrijwilligers legt je met plezier onze werkwijze uit.)
Katjes naar de dierenarts brengen: na vangacties, meldingen, …
Katjes terugbrengen naar meldplaats: bij verwilderde katten, na sterilisatie/castratie, …
Ophalen van donaties
Wil je graag meer info? Of ben je al helemaal overtuigd? Contacteer ons dan via info@cattitude.be of via ons contactformulier.